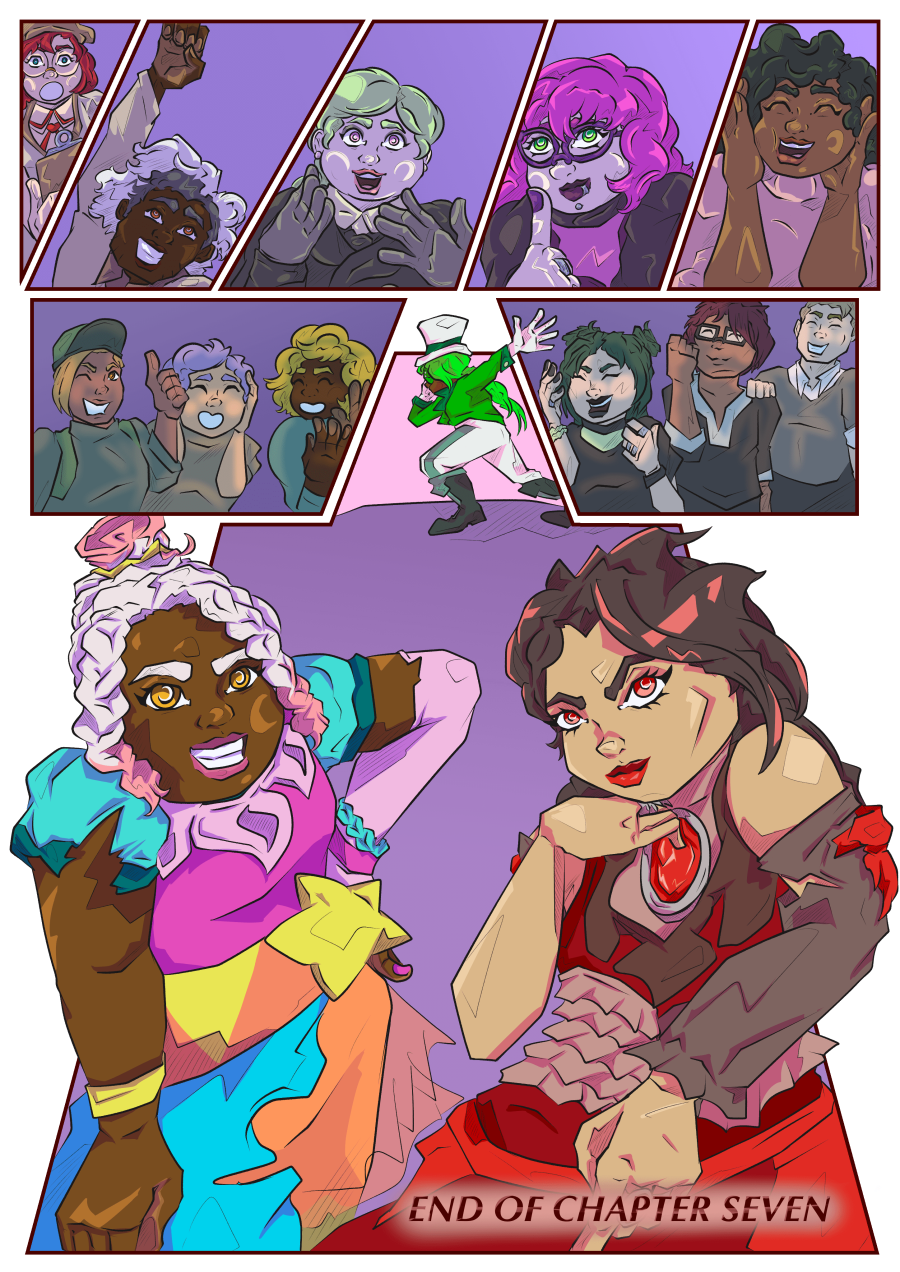 Chapter 7 Page 50 + HIATUS ANNOUNCEMENT!
Posted March 17, 2023 at 9:00 am
Ren and Ida's fashion show adventure has ended. Look at them shine! THANK YOU so much for reading this story- this has been the longest chapter yet at a whopping FIFTY pages. That's double the length of Chapter 6!
Wowza.
Conjuring Cutlasses will return with Chapter 8 on JULY 25, 2023!

Seriously, I cannot thank you all so much for the support I have received throughout the process of sharing Conjuring Cutlasses. As mentioned last update, Chapter 7 marks the ending of Season One! We've met the main cast, watched Ren and Ida form a close bond and have even been introduced to some intimidating foes. The Competition continues with Ren and Ida as some pretty powerful contenders to win, but forces like Olive (and this mysterious Charlotte LaBelle...) loom. Meanwhile, Violet Nightingale is hard at work investigating the source of the Competition and the Conjurers at large — How will her investigation intersect with Ren and Ida's goals? And how are Ren's personal motivations shifting now that her bond with Ida deepens? Hmm, all questions that will be further explored in SEASON TWO I'm sure!
I'm going to be pretty hard at work developing some buffer pages for Chapter 8 and the start of the second season. As I type this, I haven't even started drawing Chapter 8 though the script is complete. Chapter 7 was the first time I started drawing with a new drawing program and hardware. It's taken some time to get used to but I am confident in my ability to deliver pages at a regular pace now. That all said, Conjuring Cutlasses will return with Chapter 8 on JULY 25, 2023!
I know that's a pretty long wait, but I hope to keep this website updated with some promo art and an exciting opportunity for guest comics (more info on that at a later date!) I will be releasing promotional art and details throughout the hiatus on my social media pages, so please follow me on there to stay up-to-date with the comic and all my goings-on! Follow me on Twitter here and on Instagram here! I'm gonna be working hard to push this comic during the hiatus as well — I'd love to see the audience grow even further! Please consider sharing the comic with others to help it grow! I appreciate it more than I can articulate.
I'll see you all so soon! Ren and Ida's adventures shall continue! Season Two, Chapter 8 begins JULY 25, 2023!
Comments